Our guide to moving your Plex, btsync, SmokePing, and others to a new Linux server. And our take on how the Intel NUC performs as a home server with heavy Plex usage.
Plus the big features coming to a distro near you & has Netflix coming to Linux shown us how Linux users are now "all-in with DRM"? We debate.
Thanks to:
Download:
HD Video | Mobile Video | WebM Torrent | MP3 Audio | Ogg Audio | YouTube | HD Torrent
RSS Feeds:
HD Video Feed | Large Video Feed | Mobile Video Feed | MP3 Feed | Ogg Feed | iTunes Feeds | Torrent Feed
— Show Notes: —
Migrate Plex and btsync to a new server.
Brought to you by: System76
NUC Linux Server
Intel Nuc D54250WYKH
The Intel NUC D54250WYKH has many useful features, including four USB 3.0 ports, an infrared sensor, a headphone/microphone jack, Mini HDMI*, and Mini DisplayPort* video interfaces, and extra space to accommodate 2.5-inch HDD or SSD drives to support a variety of home or small office usages.
The chubby NUC has room for a 2.5 Inch SSD which was great for my OS and still has the standard PCI Mini storage slot
Low noise profile, not silent. But very quiet, about three feet away I can't hear it.
Performance of the NUC
Inital tesiting shows a busy btsync and 1080p Plex stream can nearly max the 4 core i5 out.
The power consumption at the wall was measured with the display being driven through the mini-HDMI port. In the graphs below, we compare the idle and load power of the D54250WYK with other low power PCs evaluated before. For load power consumption, we ran Furmark 1.12.0 and Prime95 v27.9 together.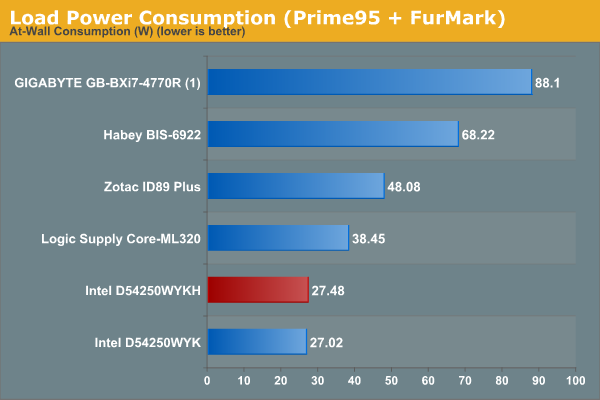 Moving Plex Media Server to another server
1 . Set up coming UID and GIDs between your NFS and app server.
2. When migrating, try to keep the same file paths. IE: /mnt/nfs was where I had the media nfs mount on the previous box.
3. Setup your fstab, when possible use systemd to mount so the mount is network aware.
Mount using /etc/fstab with systemd
Another method is using the systemd automount service. This is a better option than _netdev, because it remounts the network device quickly when the connection is broken and restored. As well, it solves the problem from autofs, see the example below:
/etc/fstab

servername:/home   /mountpoint/on/client  nfs  users,noauto,x-systemd.automount,x-systemd.device-timeout=10,timeo=14,noatime 0 0

**Tip: **noauto above will not mount the NFS share until it is accessed: use auto for it to be available immediately.
If you have any issues with the mount failing due to the network not being up/available, enable NetworkManager-wait-online.service: this will ensure that network.target has all the links available prior to being active.
Stop Plex on your current server.
Copy your old Plex Media Server configs to the new server:
In general, the location for the various Linux versions of Plex Media Server will be found under:

$PLEX_HOME/Library/Application Support/Plex Media Server/
Make sure that the directories and contents are all owned by plex:plex.
FEATURES:
XBMC library updates, poster/fanart downloads, and NFO/TBN generation
configurable episode renaming
available for any platform, uses simple HTTP interface
can notify XBMC, Growl, or Twitter when new episodes are available
specials and double episode support
Automatic XEM Scene Numbering/Naming for seasons/episodes
Episode Status Manager now allows for mass failing seasons/episodes to force retrying.
DVD Order numbering for returning the results in DVD order instead of Air-By-Date order.
Improved Failed handling code for shows.
DupeKey/DupeScore for NZBGet 12+
Searches both TheTVDB.com, TVRage.com and AniDB.net for shows, seasons, episodes
Importing of existing video files now allows you to choose which indexer you wish to have SickBeard search its show info from.
Your tvshow.nfo files are now tagged with a indexer key so that SickBeard can easily tell if the shows info comes from TheTVDB or TVRage.
Sports shows are now able to be searched for..
Moving btsync between servers
Copy down your paths and keys
Shutdown btsync on your old system
Depending on your version you need to remove the .sync folder, or the .Sync folders. Newest versionf of btsync will asking you if you want "take owner ship".
"Add Folder" and put your folder path in.
Edit the sync listing and click "view key" then click update key.

Post your orginal key you copied down early in. Now btsync will connect up to your peers.
Easy SmokePing Install and Setup
How to use this image
A. Pull down the SmokePing Docker image: mokeping Docker Image | Docker Hub Registry
docker pull dperson/smokeping
B. Start the Docker image
sudo docker run --name smokeping -p 8000:80 -d dperson/smokeping
C. Visit http://localhost:8000/smokeping/smokeping.cgi
---
— PICKS —
Runs Linux
Desktop App Pick
Hey Chris and Matt, I thought I'd share this cool program BitHammer if you haven't already heard of it. If you haven't BitHammer searches out and bans BitTorrent users on your local sub-net. That means if you travel and work (Ohio LinuxFest), often using shared Wi-Fi. This is nice because many people have been plagued by rogue BitTorrent users who've crept onto these public hostpots either with a stolen/cracked password, or who lie (and the Wi-Fi owners) about it.
https://github.com/MichaelJCole/bithammer
Weekly Spotlight
The Egg is available in packages starting at $199 with 64GB through Nov. 6, with devices shipping in July 2015. The Egg is billed as a personal web server, and a way to cut the cord on social networking sites that sell information based on your data.
---
— NEWS —
Linux 3.17 is a big improvement and brings a ton of great features like working AMD Radeon R9 290 support, Xbox One controller support, DMA-BUF cross-device synchronization, a lot of ARM hardware improvements, free-fall support for Toshiba laptops, Intel Braswell and Cherry Trail enablement work, EFI Xen Dom0 boot support, file-system improvements, and much more. Linux 3.17 is a very exciting update!
Netflix now works on Ubuntu out of the box — no hacks, plugins or user-agent switching workaround required.
let's drop support for ext2/3/4. Unnecessary features like this make it difficult to implement a feature that matter
Basically converging the open-source Radeon Linux graphics driver and closed-source AMD Catalyst driver to run off the same kernel driver
No firm time table was provided when NVIDIA's Unix driver team hope to have their Linux proprietary driver fully running with Wayland/Mir and available to the public, but based upon how things are looking right now, it would likely be a safe bet for 2015.
Firefox OS is now available on three continents with 12 smartphones offered by 13 operators in 24 countries. As the only truly open mobile operating system, Firefox OS demonstrates the versatility of the Web as a platform, free of the limits and restrictions associated with proprietary mobile operating systems.
---
— FEEDBACK —
— CHRIS' STASH —
Hang in our chat room:
irc.geekshed.net #jupiterbroadcasting
— MATT'S STASH —
Find us on Google+
Find us on Twitter
Follow the network on Facebook
Catch the show LIVE Sunday 10am Pacific / 1pm Eastern / 6pm UTC: