It's a special holiday edition of the Linux Action Show & we get thankful for some super important, innovative, and critically necessary open source projects. We throw out the format and cover many projects listed in our notes & off the tops of our heads.
Plus some really unique weekly picks, through providing feedback…
AND A FEW SURPRISES!
All this week on, the Linux Action Show!
Thanks to:
Direct Download:
HD Video | Mobile Video | WebM Torrent | MP3 Audio | OGG Audio | YouTube | HD Torrent
RSS Feeds:
HD Video Feed | Large Video Feed | Mobile Video Feed | MP3 Audio Feed | Ogg Audio Feed | iTunes Feed | Torrent Feed
— Show Notes: —
Brought to you by: System76
Projects we are Thankful For
SimpleScreenRecorder is 'simple' in the sense that it's easier to use than ffmpeg/avconv or VLC, because it has a straightforward user interface.
The input selection page: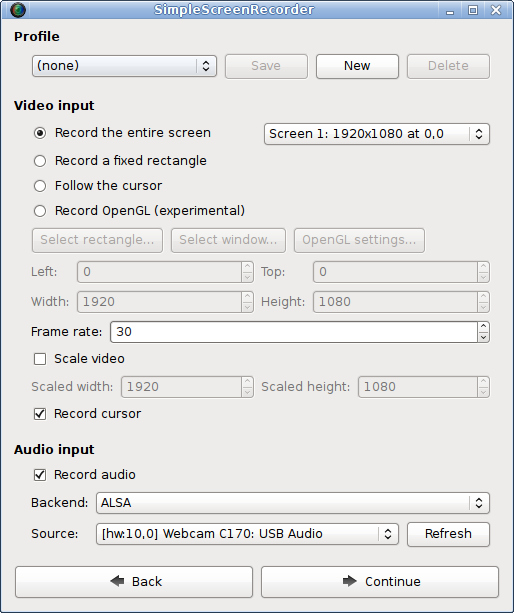 Features
Graphical user interface (Qt-based).
Faster than VLC and ffmpeg/avconv.
Records the entire screen or part of it, or records OpenGL applications directly (similar to Fraps on Windows).
Synchronizes audio and video properly (a common issue with VLC and ffmpeg/avconv).
Reduces the video frame rate if your computer is too slow (rather than using up all your RAM like VLC does).
Fully multithreaded: small delays in any of the components will never block the other components, resulting is smoother video and better performance on computers with multiple processors.
Pause and resume recording at any time (either by clicking a button or by pressing a hotkey).
Shows statistics during recording (file size, bit rate, total recording time, actual frame rate, …).
Can show a preview during recording, so you don't waste time recording something only to figure out afterwards that some setting was wrong.
Uses libav/ffmpeg libraries for encoding, so it supports many different codecs and file formats (adding more is trivial).
Can also do live streaming (experimental).
Sensible default settings: no need to change anything if you don't want to.
Tooltips for almost everything: no need to read the documentation to find out what something does.
Why Chris' Thankful:
*This is a first class screen capture app. Multithreaded is critical for me (my rig is constantly busy during pre-production). It does a fantastic job at capturing audio playing from video, and multiple ways to select the area I want to capture. This is my secret weapon to capture those un-capturable broadcasts for Unfilter *
Mumble is an open source, low-latency, high quality voice chat software primarily intended for use while gaming.
Why Chris' Thankful:
I might think it has its quirks, but there are tons of reasons to love Mumble. It sounds good, offers great organizational abilities, allows for recording, and we use it every single LINUX Unplugged for our Virtual LUG and Tech Talk Today for insights into the news
Why Noah is Thankful:
An alternative to TeamSpeak that even many TeamSpeak people like better.
Easy to spin up your own server
Has allowed me to develop a group of friends outside the IRC
FFmpeg is used by software such as VLC media player, xine, HandBrake, Plex, Blender, YouTube,[47] and MPC-HC;[48] it handles video and audio playback in Google Chrome,[48] and Linux version of Firefox.[49] Graphical user interface front-ends for FFmpeg have been developed, including Avanti,[50] and XMedia Recode. JavaCV, a Java wrapper for OpenCV, includes a supplementary Java wrapper for FFmpeg.[51]

FFmpeg is used by ffdshow, LAV Filters, GStreamer FFmpeg plug-in, Perian and OpenMAX IL to expand the encoding and decoding capabilities of their respective multimedia platform.
Why Chris' Thankful:
Not only does it power tons of tools we all love, but it's one of the most critical piece of machinery in the Jupiter Broadcasting factory. We encode every episode with ffmpeg. It powers critical tools that many JB staffers use every day
Why Noah is Thankful:
Was the first tool I ever used to send a remote video feed to JB
Seems to be limited only by creativity
One of the tools that exemplifies how FOSS tools can far exceed anything proprietary.
youtube-dl is a small command-line program to download videos from YouTube.com and a few more sites. It requires the Python interpreter (2.6, 2.7, or 3.2+), and it is not platform specific.
Why Chris' Thankful:
*Meet one of my new best friends. This is one of the best tools of the year, with support for WAY more sites that YouTube, it makes it possible for JB to grab clips from a WIDE range of sources, store them off-line for immediate playback while on air, and convert/transcode them on the fly into a format suitable for us. Updates are quick, and fix issues with reliability. *
Why Noah is Thankful:
Use it daily to download YouTube clips that are bound to be taken off of youtube.
Because it's CLI and not a browser extension it's invisible until I need it
Because it's CLI I can run it in the background and continue work in the browser, or even close the browser without any real consequences.
Avidemux is a free video editor designed for simple cutting, filtering and encoding tasks.
Why Chris' Thankful:
*When working with any kind of long clip, an interview, news report, an episode outtake, Avidemux makes it crazy simple to select JUST the area of the video I want, and copy it out without any quality loss/transcoding. Or I can choose to transcode (say from h.264 video, with mp3 audio in an flv, to vp8, with opus audio, in a webm container) just the portion of the video I want. Another option would be just grabbing an audio portion of a clip, saving it as an MP3, and making an easy ringtone. *
Why Noah's Thankful:
Allows Chris to edit under Linux.
Any alternative video editor on Linux provides competition to all improve.
No video editor is perfect and so anyone could be "the" video editor under LInux in the near future.
What is OBS?
Open Broadcaster Software is free and open source software for video recording and live streaming. Supported features include:
Encoding using H264 (x264) and AAC.
Support for Intel Quick Sync Video (QSV) and NVENC.
Unlimited number of scenes and sources.
Live RTMP streaming to Twitch, YouTube, DailyMotion, Hitbox and more.
File output to MP4 or FLV.
GPU-based game capture for high performance game streaming.
DirectShow capture device support (webcams, capture cards, etc).
Windows 8 high speed monitor capture support.
Bilinear or lanczos3 resampling.
Why Chris' Thankful:
*While I'm not sure it's quite there yet, this promises to free us from one huge proprietary monster *
Why Noah is Thankful:
One of the big road blocks for JB going all Linux.
Can be installed on practically any machine making remote broadcasting much simpler to plan
Can be used to build appliance like devices
Shortcomings not withstanding it's usable today
The stakes have never been higher for open-source software security. With millions of people around the world relying on open source software — and vulnerabilities like Heartbleed putting everyone at risk — it's time to change the way we support, protect, and fortify open software.
Why Chris' Thankful:
HeartBleed reminds us that those core infastrucutre projects are vitally important and need funding just as much as the flashy front end facing projects
Why Noah is Thankful:
*A great start to streamline open source software in a way that will allow it to compete at scale with it's proprietary alternatives.
Toolkit support
Toolkits supporting Wayland include the following:
Desktop environments supporting Wayland include the following:
KDE support:
The Hawaii desktop environment exclusively supports Wayland.
GNOME: In March 2013 GNOME developers announced plans for a complete Wayland port within a year.[77] GNOME 3.10 includes initial support that "will enable the project to fully adopt the next generation display and input technology in the future".[78][79] The current roadmap targets GNOME 3.18 as the first version to be fully ported to Wayland.[80][81]
Other software
Other software supporting Wayland includes the following:
Mobile and embedded hardware
Mobile and embedded hardware supporting Wayland includes the following:
The Wayland Protocols 1.0 release includes support for Fullscreen Shell, Input Method, Linux DMA-BUF, Pointer Gestures, Presentation Timing, Text Input, and XDG Shell. All of these protocols are considered unstable for the v1.0 release with no protocols being declared stable yet in this repository.
Why Chris' Thankful:
*The path to Wayland has been long, and sometimes treacherous. As a long time Linux user it warms my holiday heart to see so much wide spread support, and so much collaboration in moving to Wayland and the future of the Linux graphics stack (also something, something, Mir) *
— PICKS —
Runs Linux
Here's some videos of Mathew Reimer, a canadian wheat/canola grower using a drone software/hardware to autonomously pilot his tractor. You can see him in his combine harvester running mavproxy drone software on an ubuntubox.
Awesome shot of driverless tractor controlled via Ubuntu Tablet:
Desktop App Pick
Atraci is an application for Windows, Mac and Linux that lets you listen instantly to more than 60 million songs (way more than iTunes's 26 million). It requires no sign up, displays no ads and is 100% safe.
Weekly Spotlight
Install apps to create documents, spreadsheets, blogs, git repos,
task lists, and more as easily as you'd install apps on your phone.
Designed for Humans – It's as easy as your phone. No command lines, no config files, no database provisioning.
Secure By Default = Sandstorm's unparalleled security measures keep you safe even when apps are buggy.
Freedom – Run any app you want — even write your own. Don't get locked into walled gardens.
Sandstorm is open source and can be installed anywhere.

Sent in by Andrew F
LAS Jacket Returns!
Celebrate your new year with Linux on your mind and on your body!
We are excited to offer this LAS zip up hooded jacket that will ship from the
EU!
---
— NEWS —
Wildfire Games, an international group of volunteer game developers, proudly announces the release of "0 A.D. Alpha 19 Syllepsis", the nineteenth alpha version of 0 A.D., a free, open-source game of ancient warfare. This alpha features building and siege engine capture, a new pathfinder, visual replay and more!
# Why Chris' Thankful:
*0 AD here is becoming a true blue serious game. Better than commercial stuff.
And it does not get enough attention. I'm thankful this team sticks to their guns, and keeps releasing a better and better product. They are becoming a shining example of what an open source project can be, let alone a game.*
Conservancy needs 750 Supporters to continue its basic community services &
2,500 to avoid hibernating its enforcement efforts! The next 48 supporters who sign up before next Friday will count twice thanks to an anonymous match donor!
One of our Supporters has generously come forward to offer an anonymous match donation. We have one week to sign up 83 Supporters and have their donations count twice (making it a match of $10,000 for Conservancy). If you sign up as a Supporter now, we'll add you as a Supporter on the left of our status bar, but on the right you'll also see the match decrease our goal by one. So, during the match, you'll be counted both as a Supporter and to reduce the overall target from the other direction!

Help us take advantage of this opportunity and reach our goal of 2500 Supporters to save enforcement! Sign up as a Supporter now!.
Software Freedom Conservancy announces today Christoph Hellwig's lawsuit
against VMware in the district court of Hamburg in Hamburg, Germany.
This is the regretful but necessary next step in both
Hellwig and Conservancy's ongoing effort to convince VMware to comply
properly with the terms of the GNU General Public License version 2 (GPLv2), the license of Linux and many other
Open Source and Free Software included in VMware's ESXi products.

Hellwig, a key Linux kernel developer and one of the earliest members of
Conservancy's GPL Compliance Project for Linux Developers, has
publicly denounced VMware's misuse of GPL-licensed code since 2007. In 2011, Conservancy discovered that VMware had failed to provide nor offer any source
code for the version of BusyBox included in VMware's ESXi products (as
required by BusyBox's license, GPLv2). Conservancy began in early 2012
negotiations with VMware to seek compliance on all GPL'd components in the
ESXi project. Progress was slow through 2012 and 2013.
Why Chris' Thankful:
Hellwig's lawsuit against VMware to enforce the GPL license of BusyBox, and the Conservancy's support of it could be have long term ramfications for future ablity to encofce the GPL.
So many of you have probably seen that RHEL 7.2 is out today. There are many important updates in this release, some of them detailed in the official RHEL 7.2 press release.

One thing however which you would only discover if you start digging into the 7.2 update is that its the first time in RHEL history that we are doing a full scale desktop update in a point release. We shipped RHEL 7.0 with GNOME 3.8 and in RHEL 7.2 we are updating it to GNOME 3.14. This brings in a lot of new major features into RHEL, like the work we did on improved HiDPI support, improved touch and gesture support, it brings GNOME Software to RHEL, the improved system status area and so on. We plan on updating the desktop further in later RHEL 7.x point releases.
About RedHat
Red Hat, the world's leading provider of open source solutions, today announced that it has signed a definitive agreement to acquire Ansible, Inc., a provider of powerful IT automation solutions designed to help enterprises move toward frictionless IT. Ansible's automation capabilities, together with Red Hat's existing management portfolio, will help users drive down the cost and complexity of deploying and managing both cloud-native and traditional applications across hybrid cloud environments. With today's announcement, Red Hat expands its leadership in hybrid cloud management, OpenStack and containers.
Why Noah is Thankful:
One of the largest open source companies that has not let it's profits get in the way of it's commitment to free and open source software
Saved me from Windows, and made me believe there was hope for Linux as a desktop
A core group of people that are doing every day what many companies fractions of their size say isn't possible for "big companies"
Maker of Fedora
Feedback:
http://slexy.org/view/s21BuQOWGM

http://slexy.org/view/s2UViBINOo
Thank you to our sponsors, and our audience support!
Trine 3 Stream Giveaway next Friday's live show
Watch the adventures, productions, road trips, trails, mistakes, and fun of the Jupiter Broadcasting mobile studio.
Chris Fisher (@ChrisLAS) | Twitter
— CHRIS' STASH —
Hang in our chat room:
irc.geekshed.net #jupiterbroadcasting
— NOAH'S STASH —
Noah's Day Job
Contact Noah
noah [at] jupiterbroadcasting.com
Find us on Google+
Find us on Twitter
Follow us on Facebook
Catch the show LIVE Friday: