We celebrate 400 episodes of the Linux Action Show, show you how easy it is to setup your own free phone system, never flash another USB stick again & the big Ubuntu rumors.
Plus the openSSH bug you need to patch, the Steam Link SDK, Gnome 3 changes & more!
Thanks to:
Direct Download:
HD Video | Mobile Video | WebM Torrent | MP3 Audio | OGG Audio | YouTube | HD Torrent
RSS Feeds:
HD Video Feed | Large Video Feed | Mobile Video Feed | MP3 Audio Feed | Ogg Audio Feed | iTunes Feed | Torrent Feed
— Show Notes: —
Brought to you by: Linux Academy
Noah Calls /home
Install Asterisk and start building custom telephony applications with AsteriskNOW. AsteriskNOW makes it easy to create custom telephony solutions by automatically installing the "plumbing." It's a complete Linux distribution with Asterisk, the DAHDI driver framework, and, the FreePBX administrative GUI. Much of the complexity of Asterisk and Linux is handled by the installer, the yum package management utility and the administrative GUI. With AsteriskNOW, application developers and integrators can concentrate on building solutions, not maintaining the plumbing.
Part of the Cisco Small Business Pro Series, the SIP-based Cisco SPA504G 4-Line IP Phone (Figure 1) has been tested to ensure comprehensive interoperability with equipment from voice over IP (VoIP) infrastructure leaders, enabling service providers to quickly roll out competitive, feature-rich services to their customers.
1GHz ARM Cortex A8 application processor, large memory (512MB DDR RAM, 4GB NAND Flash), and dedicated high performance multi-core DSP array for advanced voice processing
Integrated 2 PSTN trunk FXO ports, 2 analog telephone FXS ports with lifeline capability in case of power outage, and up to 50 SIP trunk accounts
Gigabit network port(s) with integrated PoE, USB, SD card; integrated NAT router with advanced QoS support
Hardware DSP based 128ms-tail-length carrier-grade line echo cancellation (LEC), hardware based caller ID/call progress tone and smart automated impendance matching for various countries
Supports up to 500 SIP endpoint registrations, up to 60 concurrent calls (up to 40 SRTP encrypted concurrent calls), and up to 32 conference attendees
– Flexible dial plan, call routing, site peering, call recording, central control panel for endpoints, integrated NTP server, and integrated LDAP contact directory
– Automated detection and provisioning of IP phones, video phones, ATAs, gateways, SIP cameras, and other endpoints for easy deployment
– Strongest-possible security protection using SRTP, TLS, and HTTPS with hardware encryption accelerator
— PICKS —
Runs Linux
I was working out this morning, and the IT guy was messing with the exercise bike next to me. I noticed the CentOs boot screen, and when I inquired further, I found out that all the equipment uses linux! Looks like our penguin buddy is trying to work off those holiday pounds.
Desktop App Pick
netboot.xyz is a way to select various operating system installers or utilities from one place within the BIOS without the need of having to go retrieve the media to run the tool. iPXE is used to provide a user friendly menu from within the BIOS that lets you easily choose the OS you want along with any specific types of versions or bootable flags.

You can remote attach the ISO to servers, set it up as a rescue option in Grub, or even set up your home network to boot to it by default so that it's always available.
Weekly Spotlight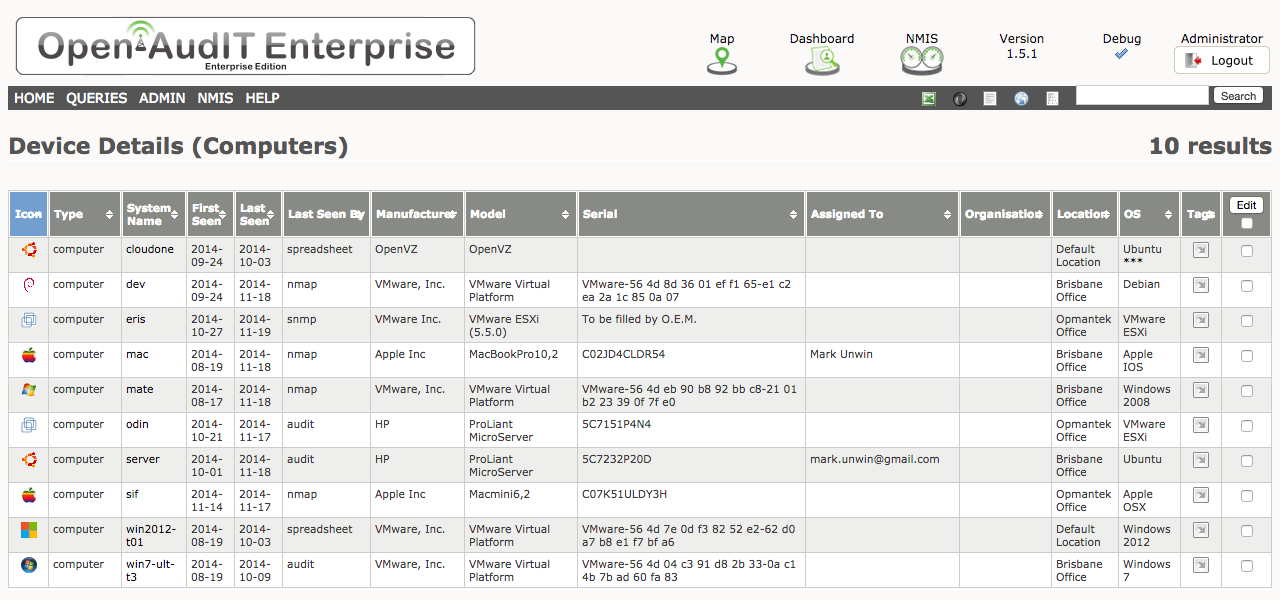 Open-AudIT is an application to tell you exactly what is on your network, how it is configured and when it changes.
---
— NEWS —
The vulnerability resides only in the version end users use to connect to servers and not in versions used by servers. A maliciously configured server could exploit it to obtain the contents of the connecting computer's memory, including the private encryption key used for SSH connections. The bug is the result of code that enables an experimental roaming feature in OpenSSH versions 5.4 to 7.1
A major feature of the latest settings designs is a rethink of the GNOME Settings "shell" (that is, the overall framework of the settings application). We want to move from the current model, that uses an icon grid and fixed window size, to one that uses a list sidebar for navigation, and has a resizeable window.
We have released an SDK for native application development!
https://github.com/ValveSoftware/steamlink-sdk
The Steam Link hardware is a single core ARMv7 processor using the hard-float ABI, running at 1 GHz, with neon instruction support.
Approximately 256 MB of available RAM.
500 MB of usable flash storage.
Custom Linux firmware based on kernel 3.8
glibc 2.19.
Canonical will demo at least one new Ubuntu convergence device at next month's Mobile World Congress next month, we've learned.
Feedback:
http://slexy.org/view/s20lrCrSh4
http://slexy.org/view/s2wcBsKt0X
http://slexy.org/view/s20AM6fJjb
Were you around for today's (10 January 2016) live show? If not, you should seriously consider taking some time with us on Sunday and watch the live show. Not only will you get more content, but you'll be able to interact with Chris and Noah.
One of the things that came up today was Chris talking about his background in today's episode.
Brought to you by: System76
Register! and use the coupon code LAS40 for a 40% discount; thanks /u/irabinovitch!

SCaLE 14x: The Southern California Linux Expo is upon us again! I'm looking forward to seeing & sharing with everyone in the free software community in Southern California this year; last year was a blast.

SCaLE 14x is January 21-24, 2016 at the Pasadena Convention Center
Offered the use of his 99 Cadillac Seville while at SCALE
Thanks to Brian
Offered his long driveway, which might or might not work.
Catch the show LIVE SUNDAY:
— CHRIS' STASH —
Chris Fisher (@ChrisLAS) | Twitter
Hang in our chat room:
irc.geekshed.net #jupiterbroadcasting
— NOAH'S STASH —
Noah's Day Job
Contact Noah
noah [at] jupiterbroadcasting.com
Find us on Google+
Find us on Twitter
Follow us on Facebook