This week we talk about how you can have a working web forum in 10 minutes or less & all open source! Last week we talked about team collaboration software, but what about when you need a wider approach?
In the news we talk about an open source router; Russia dumping Windows, more updates to video editing on Linux, a super special live unboxing & more!
Thanks to:
Direct Download:
HD Video | Mobile Video | WebM Torrent | MP3 Audio | OGG Audio | YouTube | HD Torrent
RSS Feeds:
HD Video Feed | Large Video Feed | Mobile Video Feed | MP3 Audio Feed | Ogg Audio Feed | iTunes Feed | Torrent Feed
— Show Notes: —
Brought to you by: Linux Academy
Pros of Hosting Your Own Forum
Advantages:
Not subject to rules of hosting site eg: reddit
Completely Open Source
Customized and branded for your community
Complete control over your community
Discourse – Civilized Discussion
100% Open Source
Incorporate Discourse into your site with complete confidence, the code belongs to everyone.
Mobile and Tablet
Designed for touch devices from day one. Automatic mobile and touch layouts that scale to fit your device.
Optimized for Reading
To keep reading, just keep scrolling. When you reach the bottom, suggested topics keep you reading.
Single Sign On
Seamlessly integrate Discourse with your existing site's login system with easy, robust single sign on.
CDN Support
Easily plug in any CDN provider to speed up global access to your site.
Step by Step Guide
Sign up For Digital Ocean with code lasdigital
Sign up for an account at SparkPost.com
The default is 1GB, but 2GB is recommended
Choose Distro of Ubuntu 14.04 LTS
Pick your SSH Keys
Log INto your Droplet
If you're running with 1GB or less setup a swap file
Execute the Following Commands to Setup Discourse
wget -qO- https://get.docker.com/ | sh
mkdir /var/discourse
git clone https://github.com/discourse/discourse_docker.git /var/discourse
cd /var/discourse
cp samples/standalone.yml containers/app.yml
nano containers/app.yml
Set the developer email to YOUR email
Set the hostname to the hostname of the machine
Set the SMTP address
Set the SMTP Port
Set the SMTP User
Set the SMTP Password
./launcher bootstrap app
./launcher start app
— PICKS —
Runs Linux
The East Carolina Geology department takes The East Carolinian inside its building and reveals an interesting new tool that will be used to teach students more about the topography landscapes of land and water.
The room Giaime had walked me into contained the hardware guts of the observatory's active damping system. The lab's seismic isolation sensors detect environmental vibrations ar__ound the observatory at all different frequencies, and then the compu__ter systems in this room drive servos that act to dampen those vibrations.
Desktop App Pick
Sent in by Rikai

CopyQ monitors system clipboard and saves its content in customized tabs. Saved clipboard can be later copied and pasted directly into any application.
Items can be:
edited with internal editor or with preferred text editor,
moved to other tabs
drag'n'dropped to applications,
marked with tag or a note,
passed to or changed by custom commands,
simply removed.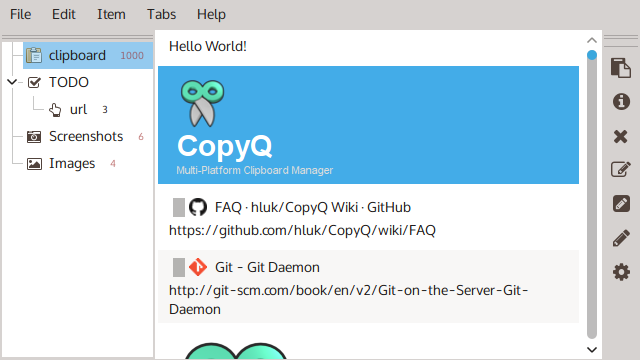 Weekly Spotlight
Sent in by Khaotic_Linux

Stremio is an app that helps you organize and instantly watch your favorite videos, movies, TV series and TV channels.
Click and play your favourite movies, TV Shows, videos and TV channels.
Stremio automatically picks synced subtitles for your language.
Cast to AppleTV, Chromecast, Smart TV (DLNA/UPnP) and mobile devices.
---
— NEWS —
Another radical change that German Klimenko wants to achieve is replacing Windows on all government PCs with a Linux-based operating system developed by Russia. Klimenko also stated that there are already 22,000 municipal authorities ready to replace Windows with their own operating system.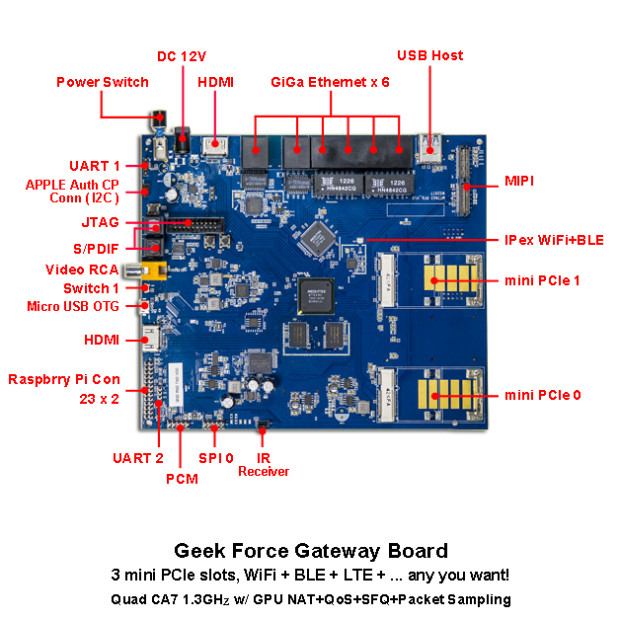 Our goal is to let Geek Force Board with all popular open source systems and every one can use free open source codes, including OPENWRT, Android, Ubuntu Snappy to make their own Roboto Multimedia WiFi Router Gateway Board.
3 Mini PCIe Slots
WiFi
BLE
LTE
Quad Cortex A7 1.3Ghz
Geek Force Board is designed for IoT Home Multimedia and Home Automation. With powerful Quad-core ARM Cotex-A7 1.3MHz made by Mediatek MT7623, could reach below applications (including TOR, VPN functions).

We are engaged in WiFi field for long time and would like to go with IoT trend. More and more IoT devices need a powerful gateway to link together and with media content bandwidth need.

With those interfaces, you can contribute your own roboto multimedia router.

Hardware is difficult, and we also would like to provide good Open Source firmwares (OPENWRT, Android, Ubuntu Snappy core) tuned for more people to implement their own systems.
OpenShot 2.0 has a new beta build available for testing.

The update is the third full beta release of the revamped video editor but only the first to made available for public testing.

Among the features, fixes and improvements that are new in OpenShot 2.0.6: –
Smoother animations (zooming, panning, rotation)
Audio improvements
Autosave engine automatically saves your project at set intervals
Automatic project back-up and recovery
Support for importing/exporting Openshot projects across OSes
New Audio preview settings
Prompt when the application needs to "restart" for an option to take effect
Anonymous metric and error reporting enabled by default (can be disabled)
It's the first major release of the non-linear video editing tool in three years, and the first to arrive since the project successfully met its funding goal in the OpenShot Kickstarter campaign held in 2013.

We've seen the launch of professional-grade and pseudo-open source Lightworks video editor, huge improvements made to Qt-based Kdenlive, and even user-friendly Pitivi hasn't been shy in pushing forward.

No one app suits everyone, and for this reason if no other it is great to see OpenShot back.
To install OpenShot 2.0 on Ubuntu 14.04 or later run the following two commands in a new Terminal window
sudo add-apt-repository ppa:openshot.developers/libopenshot-daily
sudo apt-get update && sudo apt-get install openshot-qt
Factory and deliver devices powered by Ubuntu.

The Linux shop has received commitments from Android smartphone and tablet makers to ship devices using its Linux with devices "later this year."

Chief executive Jane Silber told The Register: "We are talking to them [Android OEM partners] regularly and many will be shipping Ubuntu phones. There's a lot of interest from these folks in supporting another platform."

The company announced the Ubuntu variant of BQ's M10 Aquarius tablet last week. BQ, an Ubuntu partner of two years, also ships M10 on Android. BQ was already selling two handsets running Ubuntu.

Canonical is also partnering with Android partner Meizu, which is shipping the MX4.

Mozilla said last week it's stopping production of Firefox OS for smartphones, having had enough of trying to play catch up despite having had the muscle of Telefonica to help push it. Firefox OS was a Linux-based operating system that ran HTML5. Firefox OS will now go on "things" – starting with UHD TVs from Panasonic.

She would not say which of Google's partners, currently making and selling Android phones and tablets, that Canonical has talked to, or which of those will embrace Ubuntu. However, Samsung – the biggest single beneficiary of Android on smartphones since the Galaxy – has made repeated noises about need for an alternative.

To date, Samsung has backed Tizen, which started as LiMo and received Intel's backing in 2011 when the project was given the Tizen rebrand.

Silber is also dismissive of the suggestion Canonical and Ubuntu haven't exactly triumphed in their various efforts to flip Mac or Windows loyalists. The goal in 2011 was for 200 million Ubuntu users by the end of that year – but today that figure, according to Canonical, is just 30 million desktops.

"Five years ago people said, why do you need another Linux distro?"
Our first order of business was to terminate the "DevShare" program. As of last week, the DevShare program was completely eliminated. The DevShare program delivered installer bundles as part of the download for participating projects. We want to restore our reputation as a trusted home for open source software, and this was a clear first step towards that.
Feedback:
Brought to you by: System76
Mail Bag
http://stikked.luisaranguren.com/view/ad2b6826
http://stikked.luisaranguren.com/view/31292860
http://stikked.luisaranguren.com/view/9fe29026
Call Box
Catch the show LIVE SUNDAY:
— CHRIS' STASH —
Chris Fisher (@ChrisLAS) | Twitter
Hang in our chat room:
irc.geekshed.net #jupiterbroadcasting
— NOAH'S STASH —
Noah's Day Job
Contact Noah
noah [at] jupiterbroadcasting.com
Find us on Google+
Find us on Twitter
Follow us on Facebook